Aeon LakeTown is Japan's largest eco-friendly shopping center and was developed to exude affinity for people and nature.
On a vast, verdant lakeside area spanning 224,000 square meters lie two distinctive shopping and amusement zones, Kaze and Mori. Designed for walkability, universality (amenable to all), and community (a place for relaxation), they are at the pinnacle of eco initiatives in Japan and provide all customers with an eco-friendly experience. The Kaze and Mori zones offer spaces and services imbued with an affinity for people and nature. Examples of such affinity are endless. Pedestrian-friendly promenades. Comfortable benches for resting or waiting for friends. Driver-friendly parking. Clear public announcements. Refreshing restaurants, fun shopping, and spacious courtyards. Eco initiatives open to participation by all. Lively eco events. Warm greetings, refreshing fountains, and friendly staff. A relaxing time and good memories. Such affinity is fundamental to Aeon LakeTown's services and shared by all staff.
We hope you enjoy your visit to Aeon LakeTown, the new eco-friendly shopping center where you'll discover affinity and comfort at every turn.

The Aeon Group's first triangular mall, Kaze houses fashion store Vivre (operated by Mycal), a Maruetsu food supermarket (the first operated by Maruetsu in any Aeon Group shopping center), a cinema complex, sports and other large specialty stores, apparel stores popular among shoppers in their 20s and 30s, restaurants, and much more. Kaze aims to capture the vibrant breeze of the latest fashion trends.

Symbolizing a new lakeside town filled with lush greenery, Mori offers something to enrich the lifestyles of people of all tastes. At 500 meters, it is Japan's longest shopping mall and gives shoppers the experience of strolling along a beautiful town street lined with fascinating specialty stores. As well as the latest fashion brands and restaurants, the mall houses a AEON supermarket and myriad stores in its beauty zone, auto mall, sports & outdoor zone, and new family zone. The outdoor greenery area, complete with a small stream, evokes a sense of affinity and coexistence with the environment.

Visitors to Aeon LakeTown Outlet will enjoy a relaxed shopping experience, as though on a lakeside picnic comforted by breeze in light-filled surroundings replete with greenery and flowers in bloom.
Designed to exude affinity for people and nature, Aeon LakeTown Outlet is a relaxing yet exciting destination brimming with the joy of finding sought-after brands and the joy of finding harmony with nature.


Level 1: Selected shops offer apparel for the fashion-conscious, assorted merchandise, and food items. Breathe new life into your lifestyle.
Level 2: Chic, urban-style fashion and assorted merchandise. Coordinate your wardrobe to match the latest trends in your own unique style.
Level 3: A floor designed to make leisure time even more fun for young, urban shoppers.
・ Kaze specialty store area:
9:00 – 22:00
・ Kaze restaurants area:
11:00 – 23:00
・ Level 1 Maruetsu Koshigaya-Laketown:
9:00 – 23:00
・ Level 1 Ministop:
7:00 – 24:00
・ Level 1 Tsutaya:
9:00 – 23:00
・ Level 2 LakeTown Dental Clinic:
10:00 – 14:00/15:30 – 20:00(reception open until 19:30)
・ Level 3 AEON Cinema:
9:00 – 23:00

Level 1: Offers shoppers luxurious leisure time. Stroll through and discover quality goods to suit your lifestyle.
Level 2: A place to enrich your everyday. Discover the beauty of lakeside life surrounded by nature.
Level 3: Find new ways of enjoying life with your family. Learn, play, eat, and enjoy!
・ Mori specialty store area:
9:00 – 22:00
・ Mori restaurants area:
11:00 – 23:00
・ AEON LakeTown:
9:00 – 22:00 (Level 1 open until 23:00)
Mori specialty stores began accepting UnionPay cards from January 31, 2011. (Please note that UnionPay cards are not accepted at the third-floor food court.)

1st Ave: Offers a range of popular international and local casual fashion, selected imported magazines, interior furnishings and accessories, and kids' fashion with an edge. A relaxing place that parent and child will want to visit again and again.
2st Ave: Offers a range of interior accessories, kitchenware and other items from international luxury designer brands, embodying the essence of Aeon LakeTown Outlet and its sense of class. Shopping for a refined lifestyle.
3st Ave: Lined with stylish ladies' apparel, major domestic brands, and popular original-selection retailers appealing to many ages. Also features shops to delight your taste buds with authentic gelato, pastries, and other exciting treats.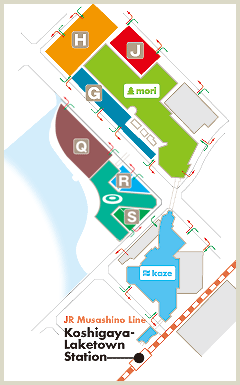 Name:

Aeon LakeTown

Address:

Aeon LakeTown Kaze:

4-2-2 Laketown, Koshigaya-shi, Saitama prefecture

Aeon LakeTown Mori:

3-1-1 Laketown, Koshigaya-shi, Saitama prefecture

Aeon LakeTown Outlet:

4-1-1 Laketown, Koshigaya-shi, Saitama prefecture

Neighboring station:

Koshigaya-Laketown station, JR Musashino line